We didn't pick Mazatlán, Mexico as a destination for its deep-sea fishing, sailing or any of the other things you can reportedly do there. We picked it for all the things you don't do there. Namely, put on pants or shoes (or deodorant, judging from our fellow tourists). This was our "sit around drinking beer while reading People Magazine" vacation. But I somehow still managed to find things to write about: Iguanas, mostly.
We heard there were things to do in Mazatlán, but why?
Once considered to be "The Pearl Of The Pacific" by people who had clearly never been to the Santa Monica Pier, Mazatlán Mexico is nonetheless a charming place. It's blessed with beautiful coastlines, warm, year 'round temperatures, and virtually 24-hour-a-day sunlight. As such, it was the ideal destination for accomplishing our goals of both ass-sitting and People Magazine-reading.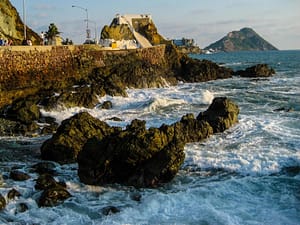 We flew from Cancun into Gral. Rafael Buelna International Airport without losing an engine or being physically violated by Mexican Immigration, so, in all, a successful journey. We were accosted, however, by a frenzied time-share pitch-lady from a competing resort who offered us untold gifts and riches just for viewing her property, including a free cab ride to our resort, El Cid Marina & Yacht Club. After hearing the retail price of that cab ride, we warily accepted her offer of a free lunch.
Our trip from the airport into town wasn't as picturesque as we had hoped—buildings were covered with graffiti—but then Mazatlán Mexico isn't plastic like Cabo San Lucas. Lacking the financial investment you see in more Americanized places like Cabo and Cancun, Mazatlán presents a more authentic Mexican experience…well, at least until you get to the tourist areas.
There are lots of resorts in Mazatlán Mexico.
Once we arrived at the resort, we were instantly browbeaten and coerced into blowing off the previous pitch-lady's offer by an extremely aggressive and unpleasant El Cid representative.
After that ugly, unethical encounter—which very nearly spoiled the entire stay for us—we exited the main lobby and headed to our room. We didn't get very far before we got picked up in a golf cart by a very nice porter, who drove us the whole 100 feet to our building and helped us find our room.
Our suite was nicely appointed with a view of the ocean out front and an even better view of the pool out back. While the resort really didn't have much of a beach to speak of, the pool more than made up for it.
The pool had three or four heat zones: an initial hot tub which poured heated water into a slightly cooler "staging pool" which poured into the even cooler and deeper, main swimming area.
The main area of the pool had to be deep enough that you could dive off the top of the 10-foot artificial cave they had built into it. Through the cave, there was yet another, still colder area that got shallower leading up to "the beach." Yet despite the elaborate pool, we spend most of our time in the lounge chairs ordering food and drinks. And after a few cervezas there, we had completely forgotten the bitch from the lobby.
Let's talk about iguanas. No, seriously.
Because the pool area offered a full menu of food and drink, it was also overrun with the descendants of prehistoric dinosaurs ignominiously reduced to battling over fallen table scraps.
Instead of scattering us in fear like our pathetic mammalian forebears, the terrifying visages of these miniature velociraptors elicited only "Ooohs" and "Awwws" while we watched them dive frantically after french fries. It was decidedly entertaining, but evolutionarily, kinda sad.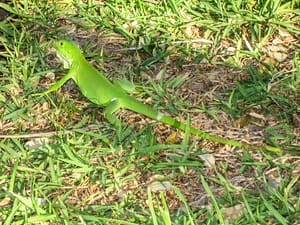 An elderly Ex-pat who lived on the property claimed that he often fed breadcrumbs to all 17 iguanas at once, but then he claimed to be Elvis, too. Regardless, the experience was much like spending the day warding off pets or pigeons, only waaaay more disturbing and creepy.
The iguanas went after scraps like a family dog and, similarly, required a stern swatting with the aforementioned People Magazine to fend them off. After a few swats from us, they got the dominant-species message and moved on towards the less ambulatory tourists (of which there were plenty).
Here come the Germans! And they brought beer!
While recumbent, we studied up on the little city we had chosen using martinis, darts, and a map. Located in the Mexican state of Sinaloa, Mazatlán—meaning the "Place of The Deer" or "Land of The Deer"—is located on the mainland of Mexico, straight across the Sea of Cortez from Cabo San Lucas (whose name means "Land of Over-Priced Drinks").
Founded in 1531, the city became home to a large group of German immigrants in the mid-1800s who developed Mazatlán, Mexico into a thriving commercial seaport, and more crucially, a brewer and exporter of the excellent Pacifico Beer.
Ever since, the local Germans have lobbied the town council to rename the "Place of The Deer" to mean "Place of The Beer." Ba-da-bing! Get it? Get it…? Is this thing on?
We leave our lounge chairs to see the real Mazatlán Mexico.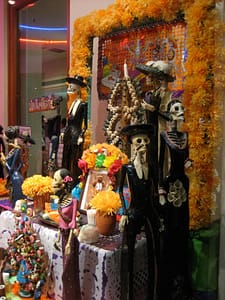 Pueblo Viejo (aka, Old Town) was home to Plazuela Machado, a charming and nice, but kinda small, plaza. In the description, they say "The plaza and surrounding streets are abuzz with art galleries, cafés and restaurants. The center of attention is the Teatro Ángela Peralta, half a block south of the plaza. All kinds of cultural events are staged here."
When we were there, there wasn't much going on besides a bunch of kids from a local music school who were practicing at night behind bars.
There, against a backdrop of cobbled streets, crumbling edifices and an ever-increasing number of newly restored buildings, we found a sidewalk café, had a couple of Margaritas, and soon liked the area a whole lot better.
What's the best time to lift a finger here? Night.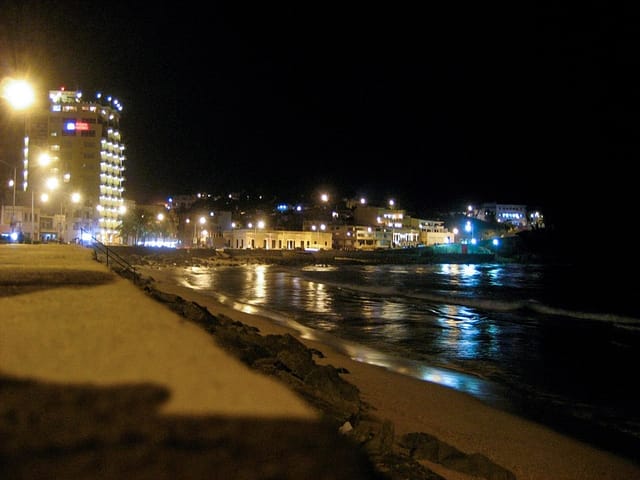 Flanked by a broad Malecón (waterfront street), the golden sands of Playa Norte (or North Beach) begin not surprisingly just north of Old Mazatlán. We walked pretty much the length of the Malecón at night in an effort to work off the calories from all the eating and drinking we'd been doing.
We passed countless fishing boats pulled up on the beach and a number of guys who looked like they might be drug dealers. Sadly, none of them were and we had to go back to our resort empty-handed.
We took a pulmonia back to our resort. Pulmonias—whose name is derived from "pneumonia"—are roofless "taxi cabs" (in the most generous sense of the term). Exposed to the elements, these unusual, open-air vehicles appear to be homemade and held together by what we gringos would call "fringe."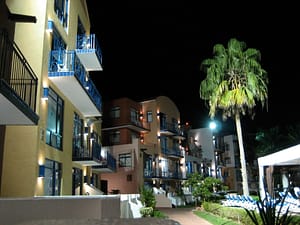 Typically, they are only ridden in when 4-8 tourists are stinking drunk (i.e., most of the time), the pulmonias are about 33%-50% less expensive than actual taxis, probably due to the increased odds of your untimely demise in a fiery wreck.
Mazatlán Mexico was probably awesome back in the '50s.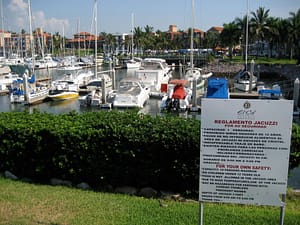 In Old Mazatlán, the crescent-shaped Playa Olas Altas is the beach where tourism first flourished in the 1950s. The small pebbly beach isn't the best for swimming, but it's a good place to soak up alcohol.
The beachfront road, Paseo Olas Altas, reminds you of 1950s-era Mazatlán, with equally hazy-looking hotels and restaurants like La Copa De Leche which has great food, service and a killer view. Eat there if you get the chance.
Mazatlán Mexico was frequented by Hollywood legends such as John Wayne, Gary Cooper, John Huston, and others as a sport-fishing mecca. The hotels along Olas Altas flourished during the '40s, '50s and '60s, supporting this pointless, time-killing excuse for drinking on a boat.
Of course, if they really wanted to prove their manhood, they could have done something requiring more bravery than baiting a fishhook. Something like cliff diving, for example.
Donde esta el Loco Clavadistas (aka "Crazy Cliff Divers")?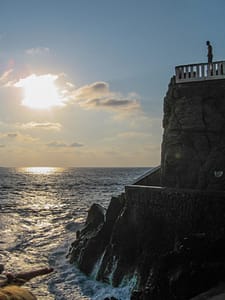 Although not as famous as Acapulco's famous cliff divers, the local Mazatlán clavadistas still climb a really high platform—presumably, drunk off their asses—and jump headlong into the treacherous ocean swells and jagged rocks. They do it for thrills, the entertainment of tourists, and the financial health of Mazatlán's emergency care clinics.
The divers usually perform around lunchtime and in the late afternoon, but they won't risk breaking their necks until a big enough crowd has assembled. So we had to wait around a bit until a tourist bus dropped off a load of slack-jawed, camera-toting hicks hoping to witness the divers commit occupational suicide. Moments later, our diver jumped and hit the swell at the exact right moment, disappointing the crowd by living.
We contributed to the local Mazatlán economy.
During the really hot hours of the day, we went to the Golden Zone to, ironically, shop for silver jewelry. The Zona Dorada is essentially a block of about three streets with some of Mexico's better shops lining either side (although "better" isn't saying a lot). While wandering around the area, we could see a pretty huge discrepancy between the "haves" and the "have-nots."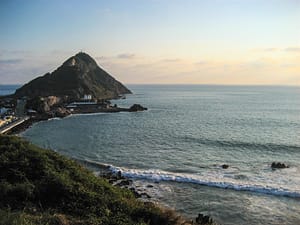 The local street hawkers were more insistent than we'd experienced in past visits to Mexico, demonstrating a real sense of financial desperation. And our tanking economy wasn't making life any easier on them—the locals were seriously pimping a new development being built in town.
Everyone we talked to—from waiters to pulmania drivers—asked us if we'd been to "the presentation." They told us we could get hundreds of dollars just for sitting through the talk. Apparently, they would get a substantial kick-back for sending you their way, too. But having no interest in another time-share scam pitch, we bought a crap-load of silver and some overpriced crêpe-paper flowers from a woman on the street.
The city's El Faro lighthouse.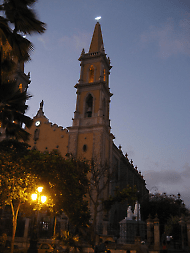 The city's lighthouse, El Faro, is one of Mazatlán's premier tourist attractions. So naturally, we didn't go. But we did learn from Wikipedia that the bulb inside the lighthouse had been handcrafted in Paris in 1879 (before anyone knew how to make a revolving light).
And that, in 1905, its static lamp was converted to a revolving lamp, finally preventing future ship captains from thinking the light was an oncoming train.
While at a hilltop restaurant, we did see the thing from a distance, but we've seen lighthouses before and decided it was more culturally important for us soak up the local beer instead—it's a matter of priorities.
Mazatlán has a famous cathedral, too.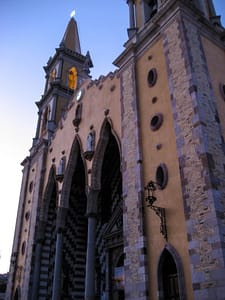 Once we were done soaking up enough local "culture," we visited the Mazatlán's famous cathedral. This large 19th-century church was right in the heart of Old Mazatlán, across from the ice cream parlor. It had tall, twin towers, with a dramatic interior and some beautiful statues on the surrounding grounds—it looked good.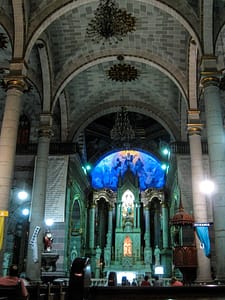 Built from 1875 to 1890, the cathedral faced the Plaza Principal, which had lush trees and a freakin' bandstand for some reason I could never fathom. Regrettably, we visited the Cathedral at night when it was at its creepiest—I don't remember why, but it probably had something to do with our quest to get a tan during the day. The nightmarish horrors it instilled in me faded after a few months.
What to not do in Mazatlán Mexico (anything).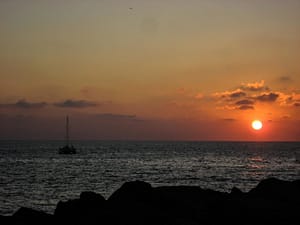 To be perfectly frank, we didn't do much while we were in Mazatlán Mexico. But maybe that's the best way to sum this place up as a vacation destination. Because Mazatlán simply isn't a great sight-seeing destination—there just didn't seem to be a lot of cultural or historical sites of interest (other than the aforementioned brewery).
In that context, however, we would still heartily recommend Mazatlán Mexico to anyone looking for a place to get away from it all, as long as that includes 'things to do.'