We pulled into Paris France (Bercy Station, to be specific) and saw the endless line waiting for cabs, said "screw that noise," and dragged our many bags to the Metro station yet again. The weather in France was nothing like that of Italy, it was overcast and gray, reinforcing the depressing monotony of life. The chill inspired us to bust out our Moonstone® jackets, which turned out to be a good call because, when we got off at our stop, it was pouring rain outside. C'est la vie.
Paris France is a lot like what you see in movies.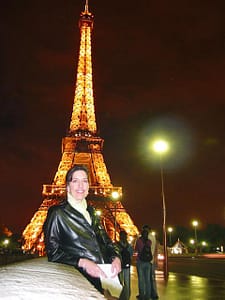 Fortunately, the Metro station put us only two blocks away from Rue de Rivoli and our hotel, Hotel French Louvre. The location of the hotel couldn't have been better (although we were a bit too close to the creepiest building in the world, the Hotel de Ville, for my liking).
Hotel French Louvre was pleasant, but hardly palatial. Even though we got the upgraded room, it was still tiny, even by NYC standards. The elevator, for instance, accommodated only one person at a time if they brought any luggage. Airlines are more lenient about space requirements than this elevator. The bed was two double beds only held together by positive thoughts. Still, we were tired from the train ride and ended up sleeping for four hours, anyway.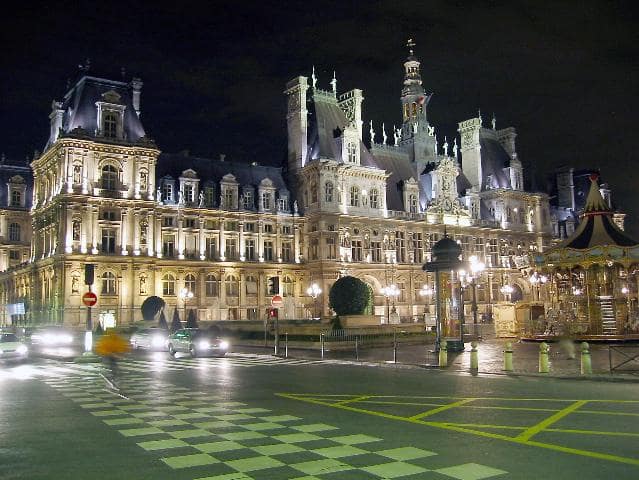 Paris France was our butter-soaked oyster.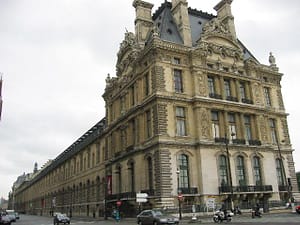 When finally we woke up, it was still raining in Paris France, so we went to the Louvre. After 3pm, admission is only 5 Euros (as opposed to 7.5) and we soon found out why. Much of the museum was already either closed or closing. We missed an entire wing of The Louvre, but we managed to see the Mona Lisa, some Michelangelos and a lot of other cool paintings and sculptures through our rage-blinded eyes. Many of which were very large and impressively framed.
We burned through the still-open sections in about 4 hours. When we were done, we sat down to rest and have a $5 Coke-Light at the museum café. Then I sat in front of Michelangelo's "Prisoners" sculpture and tried to draw it. I was flatteringly mistaken for a museum artist by a woman claiming to be an art professor at a University in Spain. (Apparently they sell alcohol in the Louvre as well.)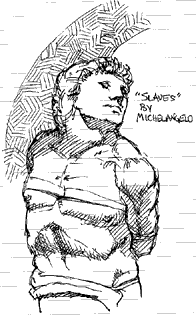 Meanwhile, the sky had cleared up. We walked back to our hotel stopping at a Spanish tapas restaurant near our hotel named Les Pietons, or something. The menu was in Spanish, which we kind of understand, but unhelpfully, it was translated into French beneath. As a result, the food they brought us almost resembled the food we thought we'd ordered.
The waiters were very un-French-like, in that they were helpful. (They did, however, take time to correct our Spanish pronunciations. How French of them.) After the meal, we once again wrestled with that question of the ages, "Is the tip included?" Naturally, this is where the waiter's helpfulness stopped.
Drivers in Paris France, we found, are very horn happy. Our room overlooked the main street awash with the strains of driver's leaning on their horns like NYC cabbies. There wasn't that much honking in Roma.
France is living up to all of our expectations; it's pretentious, rude and snooty. At least we do have a French maid, just not the kind I'd hoped. In addition, I found that my digital camera voltage-adapter itself needed its own adapter. Vive la France!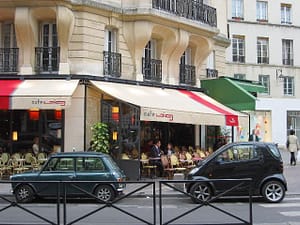 Notre Dame Cathedral was next on our itinerary, and we were not that impressed. Sure, it's big with nice colored glass, but the best parts were the creepy parts; like the headless saint carrying his own head and the gargoyles hanging off the roof.
By comparison, the basilicas in Italy were more ornate, made of better materials (marble, not concrete) and felt more spiritually impressive. French churches, on the other hand, feel more like The Munster's house.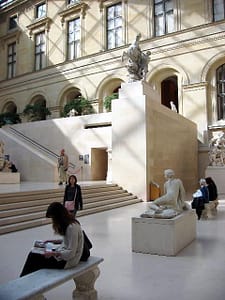 Jones-ing for Gelato, we tried some of France's "glacés" and found it wanting. It's not bad, just much thicker like American ice cream.
The bread in France, however, is vastly better than the bread in Italy. Probably delicious enough to even prevent us from carpet-bombing the country some day. Yes, it was THAT good. (So that's, what…Italy: 113; France: 001?)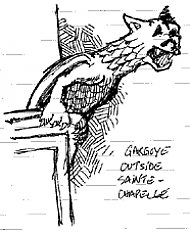 We ate somewhere in the Latin Quarter and moved on to Saint Chapelle. Amy went inside while I waited outside and sketched one of the gargoyles hanging off the roof like an extra from Buffy the Vampire Slayer.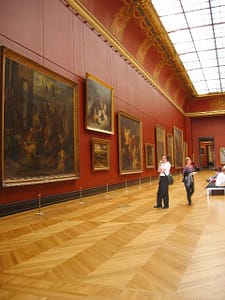 We talked with them until it their Depends were full and then headed out to the Eiffel Tower via the Metro. Lit up like an alien space ship, the Eiffel Tower was pretty impressive (and much larger than the original one in Vegas).
We continued walking the Paris France's Latin Quarter to a huge mall within a store called La Samaritaine. It was there we discovered the glorious Nutella Crepe, a wholly acceptable substitute for Italian Gelato.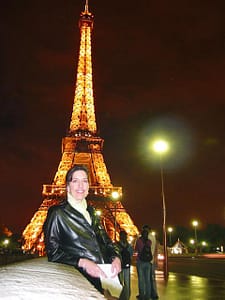 I found the voltage-adapter-adapter I needed at a store called Bazar de l'Hôtel de Ville – BHV, a department store that had a whole hardware store in the basement, it even sold lumber.
I guess you have to cram everything anywhere you can when you have 100 million people in the space of San Francisco (which only has 700,000 inhabitants).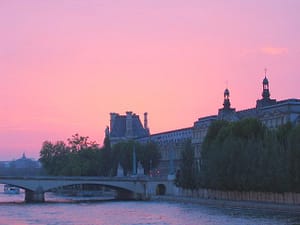 It soon got very chilly, and we busted out the leather jackets we had been schlepping around since Florence (the purchase of which now seemed prescient).
We wore them out to dinner at Chez Rene, a place that we found, catered almost exclusively to the over-50 set. The only exception, it appeared, was us. We were sat next to two hip, 60ish couples who turned out to be from Menlo Park, CA and oddly, Oklahoma.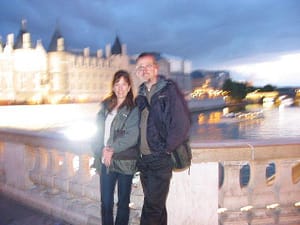 It was 12:30am when we stopped making out under it, by which time the Metro had closed its doors for the night. Cold and tired from polishing off a carafe of Beaujolais at dinner, we hailed an uncooperative French cabbie who feigned ignorance of our hotel's whereabouts, but ultimately got us there after we pulled a shiv on him.
Trying to clean up our act in Paris France.
With all the walking around and running-to-catch-trains we started to smell like the locals. Hoping to stem our growing body odor, we grabbed our dirty laundry and asked our hotel concierge where we could find a nearby laundromat. We soon headed to the spot he told us about, computer-generated map in hand, only to find a dry cleaner.
We walked back to the main "rue" (road) to look around. I popped into a photomat to ask an understandably confused clerk for help. His directions sent us to a different dry cleaners up the road a bit.
There, we had a prolonged "conversation," that is to say, we flailed wildly and enunciated the word "LAUND-RA-MAT" repeatedly to a French-speaking clerk who didn't even blink or acknowledge us the entire time (I kid you not).
Finally, a nice, young women from the back who wanted to help (in very un-French-like fashion) began smiling while she counted off each piece to be cleaned, totaling $58 euros. The young woman, noticing our wincing dismay at the price, helpfully suggested a place where — from what we gathered — we could "do laundry ourselves!" Of, course, why didn't WE think of that?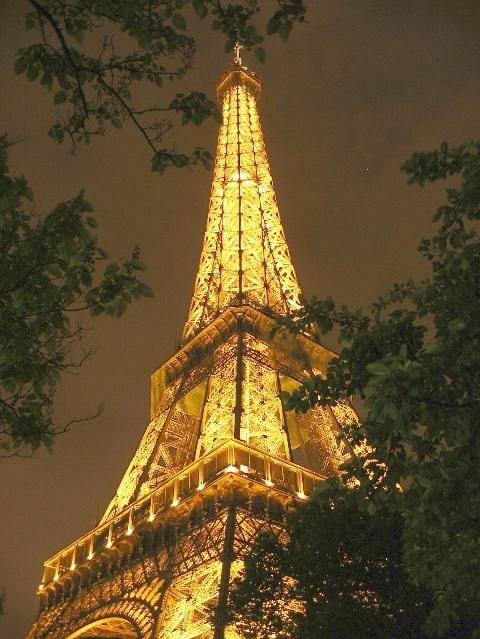 She then literally jumped the counter and pointed….wait for it…ACROSS the street to a storefront we had walked past three times already. The sign above it read, "Lavomatic." As she was the only nice person we met that day, we went back and bought her a pasterie. Just doing our part for Franco-American relations.
Speaking French isn't enough, you have to do the stupid accent, too.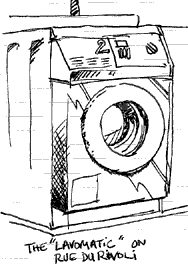 France is a difficult country to get along in if you are not French. Notice I didn't say, if you don't speak French, because it's not enough to speak the language. You must BE from France in order to get a response from most Parisians. And by response, I mean, a blink.
For example, Amy ordered a "chocolat eclair" (said with an approximate French accent), yet the woman at the Patisserie still had to do extensive translating and math in her head before it finally clicked for her. "Ah..eclair chocolat!" she corrected. What a genius! And people think French is the language of the intelligentsia….
Sitting in the Lavomatic, I realized something: Don't ever ask a French person for directions to anything. You're more likely to find it yourself, just wandering around like a homeless guy. That alone may explain why Paris France has a large homeless population.
The French sell fast-food, too.
We finally finished our laundry and went to eat lunch. Amy ate at some French place, having not apparently learned her lesson, while I went to "Quick," the French equivalent of McDonald's. I had the Le SUPREME CHEESE combo meal just to taste the difference.
The hamburger was on brioche bread with cheese, tomatoes, onions, gherkins, ketchup and a mayonnaise mustard. It was pretty darn good, too. The pomme frites were especially tasty. However, my request for a free refill of soda was met with confusion, shock and then disbelief and horror. Despite many similarities to American fast-food restaurants, some things didn't entirely translate.
Arches of triumph in Paris France.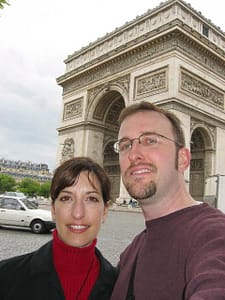 Next, we hit the Champs-Élysées and the Arch de Triomphe. The Arch is cool, but the best part is the nightmarish traffic circle that surrounds it. 12 roads come together in the same spot making it heaven for body shops and insurance agents.
Stretching from the Arch back to the heart of Paris, the Champs-Élysées is a six-lane boulevard lined with trees, streetlights and stores you'd expect to find in a mall.
Very run-of-the-mill stuff with one exception: automotive boutiques. Rather than try to squeeze a dealership into this highly trafficked, but pricey stretch of asphalt, Renault, Citroën, Toyota and Mercedes-Benz opened boutiques with only a couple of show cars but lots of affordable, branded items like lighters and matchbox versions. Peugeot had some very cool swag, too.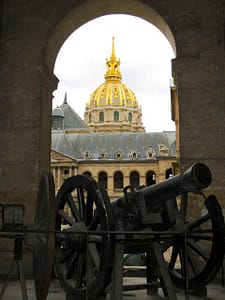 Amy had recently finished a book on Napoleon, and knew he was buried in Paris France (per his final request), so we checked it out. Les Invalides is now a military museum. This struck me as ironic considering the French aren't known for their military prowess of late (see also, cheese-eating surrender monkeys).
Heading back to our hotel, we embarked on a foot-numbing trek across the Place de la Concorde which proved Napoleonic in scope and nearly killed us. We stopped off at a park across the street from the Louvre and the Royal Palace. It was once called Place de la Révolution where Louis XVI, Marie-Antoinette, Danton, Robespierre, and 2800 others were executed between 1793 and 1795. Now it's a garden park with stone fountains. Cheery, huh?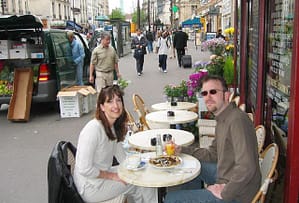 On a fluke, we found a brasserie with an English-subtitled menu and a waiter who wasn't a total dick; Les Mousquetaires on Saint Antoine. The waiter spoke English fluently and was nice to us, subsequently he got a big tip. (Huh, funny how that works, isn't it?)
Amy later braved the daunting bureaucratic force that is La French Post Office. Armed with a handful of postcards and a French phrase book, she attempted communication with an actual French person. It went acceptably, but not wholly unnoticed by the teller next to them. She snapped her head around in disgust the moment Amy spoke, appalled by her butchering of her language. Only the French get bent over how other people in other conversations speak their language. Nosy, pompous frogs.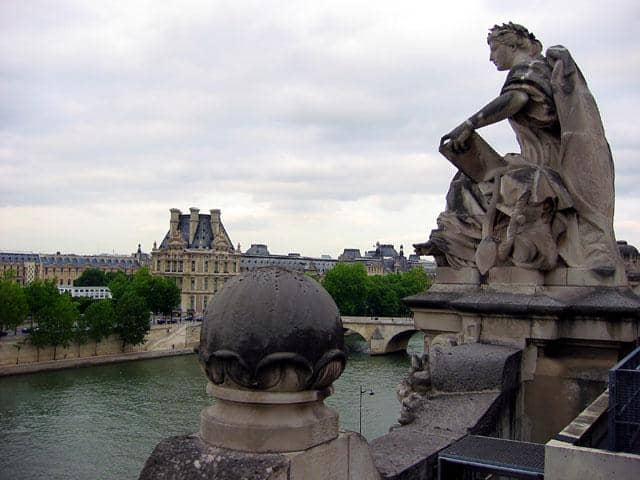 We couldn't find Place des Vosges, so we buzzed the Place de la Bastille (zzzzz) just to say we did it and then had a sandwich, two more $5 Cokes and headed to the train station to make sure we had tickets to London.
Paris France has malls, just like everybody else.
On the way back, we stopped at a massive building called Les Galeries Lafayette, which was a frickin' madhouse. What we expected to be a shopping mall of some sort, turned out to be another huge store full of little tiny stores with no walls. Instead of the Men's Department, there was the Hugo Boss store. Or the Armani store.
All with no walls, so it looks like one big store, but it wasn't. Without the walls, chaos reigned. Pedestrian traffic was total mayhem. There was even a modeling show with French "babes" (i.e., tarted-up French farm-girls with anorexia) going up and down the escalator in the middle of it all. It was nuts.
For some reason, we later got into the Musee d'Orsay for free. This museum has Monets, Rouseaus, Renoirs, Gauguins, Seurats, Toulouse Lautrecs and other 18th-19th Century post-renaissance paintings and sculptures. I was impressed most by Manet.
Degas, I always liked, but that Manet dude was good. Scary good. They also had an exhibit of Daguerre, but not just his famous photographic work. They had some of his lesser known paintings. And they were extremely detailed. Nice stuff. Too bad no one knew the guy could paint. (Hell, who am I kidding, no one knows a guy named Kodak didn't invent photography.)
When we packed to leave, I couldn't have been happier.
According to the Lonely Planet, only 50 million French actually speak French. Another mere 25 million in other countries consider French their mother tongue. That's a grand total of 200 million people who speak French. That's only 2% of the global population. Hell, the entire French-speaking populace of the planet is only 2/3 the number of English-speakers in America alone. Pretty uppity for such a small percentage of the world's talkers, if you ask me.