For traveling the world, there's simply no substitute for well-made, high-quality luggage. Sure, you can get by with cheaper bags — and I'm including many "designer" brands here — but as I recently learned, you'll inevitably pay for badly constructed luggage in other, potentially far more expensive ways.
Cheap luggage is a classic case of being penny wise and pound foolish. As an example, I recently had a spot of trouble with a piece of travel luggage. I received a laptop bag, gratis, from some company that was giving them away at a conference or trade show or something (I don't actually remember which).
The bag itself appeared to be of high quality, reinforced nylon. I'd successfully used it many times when I traveled, as its over-the-shoulder "messenger"-styling worked better walking through airports than my dual-strap, Thule backpack which is more suited to bicycle commuting.
A recent trip demonstrated clearly and painfully how woefully wrong my assessment was. While descending a flight of concrete stairs at the airport, one of the links attached to the strap broke and sent my MacBook Pro plummeting straight to the ground. My laptop slammed into the edge of one of the steps and slid down the remaining stairs. It only fell about three feet in total, but that was enough to stultify the computer's motherboard according to the Apple Genius with whom I spoke.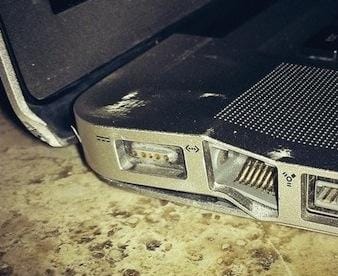 They sent my laptop away and returned it only after I agreed to part with US$610. That's about a third of the machine's original cost and, more importantly, about three times the cost of a well-made, dependable laptop bag. Lesson learned.
So the next time you're looking to buy travel luggage, makes sure it's from a top-notch brand, or you may end up paying for it in the long run.