Tired of newsletters that inform or enlighten you? Try the CrosbyReport.
The CrosbyReport will only distract you from the unrelenting misery that is your life.

Testimonies from actual CrosbyReport™ subscribers.
"LMAO!" — Michelle H.
"Thanks for the laughs." — Anonymous
"Brilliant, my friend. Brilliant!" — Wayne B.
"The PJ O'Rourke of travel." — William S.
"This is the content I needed today." — Prescott M.
"There's a typo in paragraph two." — Daniel A.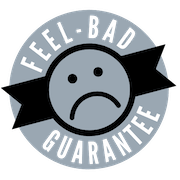 Your entertainment is all but guaranteed.*
Hey, if you don't find my free email newsletter at least mildly amusing, let me know on Twitter, Facebook, or Instagram, and I'll sulk around for days, maybe longer—that's my solemn promise to you.
*Guarantee not valid anywhere capable of supporting human life or lawyers.
Get my idiocy in your inbox.
Subscribe now—it's FREE because who'd pay for this nonsense?
What are you looking at? Why are you reading this tiny type? Did you think there was some legal tomfoolery going on down here? Did you think that, if you signed up for the CrosbyReport newsletter, I was going to sell your email address to Russian spammers or, worse, the Girl Scouts®? No worries, the CrosbyReport newsletter has ethics, morals, and— Hold up, did you think I was going to trick you into buying an extended auto warranty? Wow…that's really hurtful. You have some real trust issues, my friend, and I'm very worried about you.